Fred Couples didn't win the 2010 Masters, although he might as well have done for all the attention his presence at Augusta received that year. He actually finished sixth; not exactly a disaster for a 50-year-old golfer with the easiest of swings, the most laid-back of demeanours and a perennially bad back. Yet nobody remembers any of that. 'Boom Boom' must have won that year, so the thinking goes, because he was the only player everyone was talking about.
And that they were.
But not for his game, nor the tournament, nor even his late-blooming burst to the higher reaches of the leaderboard. No, in 2010, it was all about what was on Fred's feet. Most people loved Fred. Simply everyone loved his spikeless shoes. He was the first pro to wear them at a tour event and the golfing world went nuts for him and his shoes. In a sport hard-wired for painfully slow-motion evolution, Fred Couples started a golf shoe revolution. Because these days, not going spikeless is the exception, not the rule.
Image Credit : Harry How / golfchannel.com
A W O R L D O F P A I N
The journey of spikes to spikeless begins, as so many golf-related things do, in Scotland. One of the earliest references to spiked golf shoes appeared in the 1857 issue of The Golfer's Manual, the Scottish publication advising novices to wear shoes 'roughed with small nails or sprigs'. But any performance gain came with genuine pain and the amount of nail-related injuries ushered in screw-in spikes in 1891.
Image Credit : www.adclassix.com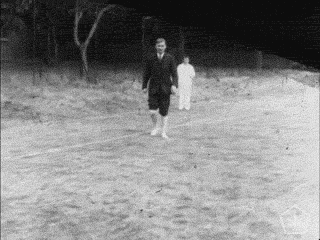 I N T H E S A D D L E
Just over a decade later, in 1906, the Saddle Oxford or Saddle Blucher became an instant golfing hit. The two-toned leather shoes, with an iconic saddle-shaped band of leather flowing around its centre, were originally aimed at racquet sports. Golfers, however, soon claimed the style for their own game with top professionals such as Doug Sanders and Tom Weiskopf pairing brightly coloured variations of the shoes with outrageous trouser and shirt combinations well into the 1960's. Even now, in the shape of our beautiful
Spiked Collection
, this timeless classic lives on.
T H E W I L D E R N E S S Y E A R S
And then there was...nothing. It wasn't until the 1990s that golf shoes made any significant steps past the Saddle Oxford and, even then, it wasn't style, comfort or performance that changed the golf shoe world. It was a damage limitation exercise. The wreckage on greens and in clubhouses was the final straw for groundskeepers and committees, who saw the spike as its root cause. As a result, in came plastic cleats to consign the familiar click-clack of metal spikes on paving to the aural annals.
T H E T I G E R K I N G
To chart the change of golfing footwear from shoe to sneaker, from hidebound to hybrid, you need only follow the money. And the money, from the 90s onwards, circled Tiger Woods. Small wonder, then, that sportswear giant Nike took what they'd done with Michael Jordan and basketball a decade earlier – market the brand, and the product, through the person – and applied it to golf. The result was a revolution in golf shoes, with technology informing performance and celebrity shaping style. Just as Tiger transcended the game – so many of his fans loved him first and the sport second - so golf shoes kicked back against the game's conservative, stuffy image and moved on, and in, to the modern world.
Image Credit: Tiger Woods by Jerry Coli
T H E S O L E I S S U E
And that's how we've made it to here – a vibrant, stylish and technologically-informed world of spikeless golf shoes that work on every conceivable level. Want performance? A spikeless shoe much like our Strider Collection, have bio-mechanically designed insoles to support the natural motion of a swing, while specially-positioned lugs mean the grip is often as good as, if not better, than cleated products.
Want comfort? Cleated golf shoes are designed with a slight flat spot on the outsole for threaded recesses to accept the spikes, but these spots require the outsole to be stiff and uneven. Hybrid golf shoes like our Driver offer more finely-tuned outsoles, adopting design cues from the specialist comfort and functionality found in running shoes to ensure day-long comfort as well as optimised performance.
Want practicality? You can wear spikeless, or hybrid, golf shoes all day long. On the course, in the clubhouse, out and about in an urban setting, they're versatile and both functional and stylish – the ultimate have-it-all shoe. The only mystery is why it took us all so long to appreciate the spikeless shoe, but at least we've finally got there.
And we have Fred Couples to thank for that.
Words by : David Wardale